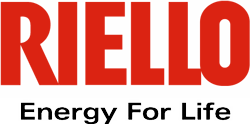 A century of Energy for Life, for the comfort of people.
Innovation and sustainability guide Riello in the way it operates and in the creation of cutting-edge systems.
The objective is the continuous improvement of the quality of life, making the planet a better place to live today and for future generations.

This philosophy is reflected in the 100 years logo, an infinite embrace, a symbol of continuous research aimed at excellence of efficient, safe and sustainable solutions.
100 years represent an important milestone and a new beginning in the current energy transition: to be a reference player in industrial and cultural change.
About Us
---
At Riello, redesigning the future is part of our past.
Pilade Riello's invention of combustion technology changed the way industries produce heat and hot water.

It explores how we enable new possibilities and continue to have an impact on people's lives far beyond keeping them warm and providing comfort.
Riello's strength is the result of the technological innovations, skills and experience it has acquired over its 100-year history.
What are the guidelines for our future
We develop systems using alternative energy sources, such as green hydrogene and biofuels, hybrid systems and products powered by electricity. Our responsibility is to provide sustainable solutions for the well-being of people while respecting the planet.
Our solutions are designed to maximise the comfort of those who use them, whether it is the end user or industry. They are also designed for ease of use and maintenance by our extensive network of agencies in Italy. Energy for Life is our motto and what drives us.
Connectivity is an integral part of our solutions. The modernisation of plant solutions and their close control by customers, even remotely, are the key tools for wide-ranging savings. The result? An economic benefit for the consumer, but also for the entire ecosystem.
Innovation is the result of a shared process that brings together the skills of internal staff with multidisciplinary expertise, but also of a network of competent and reliable partners. The link with the world of research and industry are therefore fundamental.
Being responsible also means offering equal opportunities for growth to people with different skills and backgrounds. This is why we value diversity and are convinced that plurality of viewpoints makes the difference to a sustainable business model.