---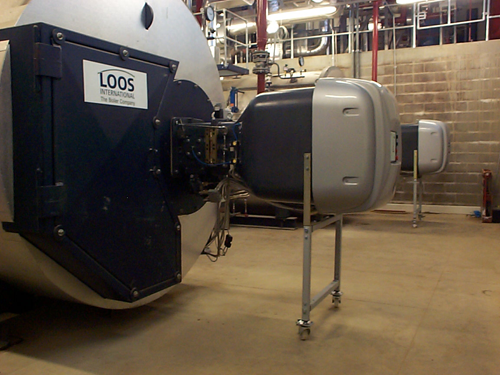 BAYLES PRODUCTION
Baileys production steams ahead thanks to Riello
U.K. - The production process at Diageo's plant making Bailey's liquor is steaming ahead thanks to two dual fuel burners supplied by Riello. The Modubloc MB8LSE burners were the first ones installed in Northern Ireland since their launch at Mostra Convegno in Italy, and also the first ones used on steam boilers. Each boiler generates around 10 tonnes of steam per hour for use in the production process.
The plant in Belfast is designed and built specifically for Bailey's production. The boilers and burners were supplied through C & F Quadrant of Belfast, and it was a first for them to supply steam boilers as well. The Modubloc MB series used for this application are designed specifically for use in large commercial and industrial heating systems. All of the forced draught Modubloc burners have full modulation control with adjustment of the air and fuel flow by separate electronic servomotors. This gives precision control of the burner firing rate whilst optimising overall efficiency.
The integral burner management control unit offers additional features such as communication with a bms, plc or computer network system. Exhaust gas analysis and oxygen trim facility and full boiler sequencing can also be easily controlled. The MB series is available in four versions. The MB SE gas firing range, MB LE oil-firing range, MB SE BLU gas-firing range with low NOx emissions to class III EN 676, and the MB LSE dual-fuel firing range.
In addition, all models have optional variable speed drive facility for the combustion fan motor. This gives reduced electrical consumption and noise emissions when the burner is firing at reduced outputs, and means the burner can be included on the Enhanced Capital Allowance (ECA) Scheme Energy Technology List. All of the burners in the Modubloc range use common components designed by and specifically manufactured for Riello, which means total quality assurance across the entire Riello Burner range.
FERRARI PLANT
Riello warms up Ferrari plant
Italy - Four units of ER 16 SE industrial gas burners have been installed in Maranello facilities.
These burners, with an output of 16 MW, are installed on four OMP Panini hot water boilers.
They are equipped with the complete automation of air/gas ratio control and electronic regulation. The combustion regulation is carried out through smoke analysis and the fan regulation capacity can be tailored to variable turns. A dedicated software has been installed to control the main parameters of operation and alarm status of the plant. The job has been successfully carried out by our headquarter application engineers team.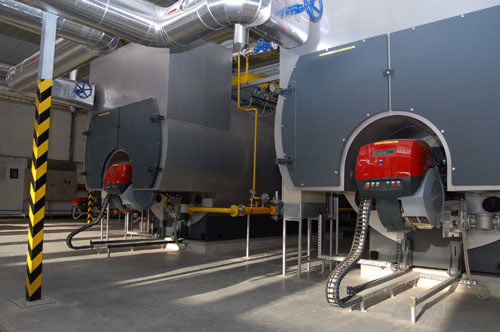 LG ELECTRONICS
Electronic cam burners for LG electronic components production plant
Poland - No. 4 Riello Burners have been installed in the Polish facility of LG Electronics group. The models installed on Viessmann steam boilers Vitomax 200 HS and Vitoplex 300, are no. 2 RS 400/E BLU burners, with an output of 4 MW, and no.2 RS 190/M burners, with an output of 1.9 MW. This kind of burners have been particularly designed for use in large commercial systems: such as hot water boilers and industrial steam generators from 4 to 8 t/h range.
Focusing on RS400/E version, this models are equipped with electronic air-fuel ratio control capable to interface with remote system.
The "R…300-400-500-800" burners family has been designed on the basis of the modularity concept: the modules can be combined to offertechnical variants which allow the burner to be used in case of special applications different from the standard (i.e.: in terms of Regional or National special Directives, local requirements in terms of plant design and installation, special requirements in terms of interface/integration with the plant system). These burner variants can be developed upon request and after a technical-commercial evaluation.
NURSING HOME ST. JOSEPH
Plant for the production of hot water at Nursing Home St. Joseph (Ascoli Piceno)
The system is composed of 35 solar plans collectors CSL 25 R Riello covering a total area of 80 sqm. With this solution we avoid entering into the atmosphere of 13.5 tons per year of carbon dioxide.
The heated water is stored in 3 stores solar Riello 7200 HV double coil of 2000 liters each, which are integrated in the winter from Riello existing two boilers for heating the building.
Agency that has followed the supply: Shooter Andrea di Ascoli Piceno.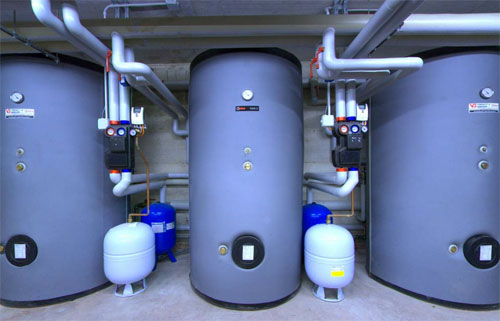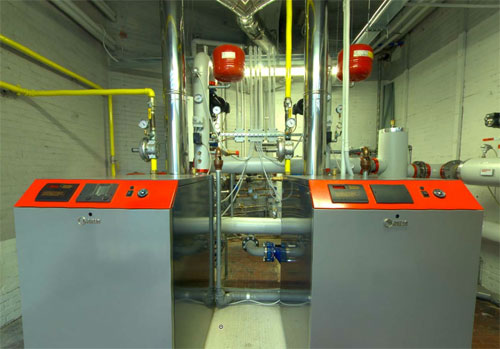 SPORT HALL PELLINI
Heating and production of hot water at the Sport Hall Pellini (Perugia)
The system created is composed of the circuit for the production of domestic hot water solar collectors consisted of 10 feeding two boilers CSV25 Riello Riello solar 7200 / 2 \ 500HV and a condensing boiler wall Riello Condexa Pro 100M integrated, if required, the system by calling the ECU 2PRO SUN.
For heating plant consists of two modules condensing Riello Alu Pro 280, installed in a cascade.
Agency that has followed the supply: David Scarpellini of Perugia
FLORICULTURAL COMPANY
Heating systems for floricultural company - RAVENNA
The plant was built at the company Baldi to heat about 25,000 square meters of greenhouses and 5,000 square meters of offices and warehouses. The boiler has an output power of 4600 kW and consists of a boiler Riello Tau 1450, a boiler with a Riello RTG RTG 1500 and 1500.
Agency that has followed the supply: Carmellini Silvano di Faenza